Webbies 4 Ever is pleased to announce a new "coral" theme in Webkinz World!!
Try to remember, this theme is only for underwater themed rooms!! Underwater themed rooms come with the purchase of a manatee or goldfish!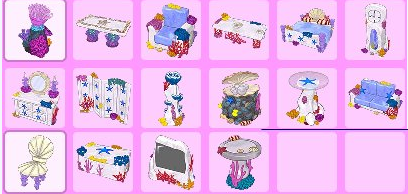 Also, Gazpacho made 5 new secret recipes for us to do some head-banging on!
They are:
Pomeadrone Punch
Mount Snococo
Serpentash Squash
Floradisa
Poppaballoo
Have fun trying to solve them!!
Also, the Pug is the October POTM, completely confirmed by Ganz!!
Hurry and grab a pug!

Also, Ganz has said Goo-Goo Berries will be floating around soon! Clicking on floating Goo-Goo Berries will get you Goo-Goo Berries in your dock, which you can then feed to your Webkinz! These were seen in December of 2006, to advertise the new "Go Go Googles" game, and then again in 2007, for fun! According to Ganz, they will be around from August 7th through August 13th!
Good luck and happy clicking!


Last edited by zebra123456 on Wed Aug 06, 2008 6:51 pm; edited 1 time in total